W Circuit Premium, 5 Days / 4 Nights
Day 1. Into the Park.
We will pick you up from your  hotel at 14:00 pm. We will drive (150 km/94 miles) in direction north on a beautiful route, across the typical Magellanic Estancias (ranches) of endless land and abundant sheep, within the immensity of the Patagonian pampas, molded by ancient glaciers. After an hour we will pass by Cerro Castillo, a small town rich in gaucho culture, where we can make a short stop if you would like. From there we have another one-hour drive heading west until we reach the entrance to Torres del Paine National Park. Along the way we are very likely to spot some Patagonian wildlife such as guanacos, foxes, rheas, flamingos, caracaras and condors if we are lucky. As we approach the Park, the road will gradually introduce us to mountainous landscape. We may stop at various viewpoints to admire incredible sceneries and take photographs. At last into the Park, you will have the option of making a short walk along a path between the Park entrances Sarmiento and Laguna Amarga, to preview some of the area's wonders and to observe fauna from up close. Finally the vehicle will take you to Refugio Las Torres, where you will have dinner and spend the night.
| | |
| --- | --- |
| Hiking distance: | 7 km/4,3 miles |
| Elevation*: | 100 m/\ (320 feet) |
| Physical Difficulty: | Low. |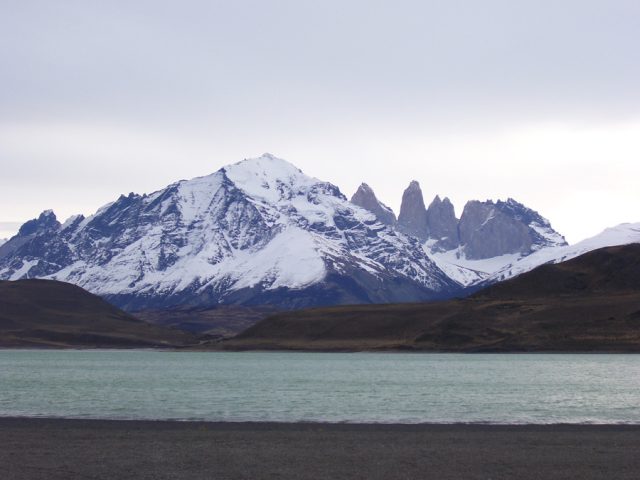 Day 2. Base of the Towers.
After breakfast, you will begin your hike to the viewpoint for the Torres del Paine by a trail up the Ascencio River valley. Along the hike through dense beech forests (
Nothofagus pumilio
), you will see several waterfalls and hanging glaciers. After around three hours hiking you will start to ascend a steep moraine towards the highest viewpoint for the Towers at 900 m.a.s.l. (2,950ft). There, You will be rewarded with a close-up view of the massive granite towers (2.850m/9,350ft) and the milky green lake at their base. You can have lunch and relax in one of the most unforgettable settings in the world. Then you will return along the same path to the Refugio Las Torres to have dinner and spend the night.
| | |
| --- | --- |
| Hiking distance: | 7-8 hours Rt, 19 km / 11.8 miles |
| Elevation*: | 950 m/\  (3,040 feet) |
| Physical Difficulty: | Medium-High. |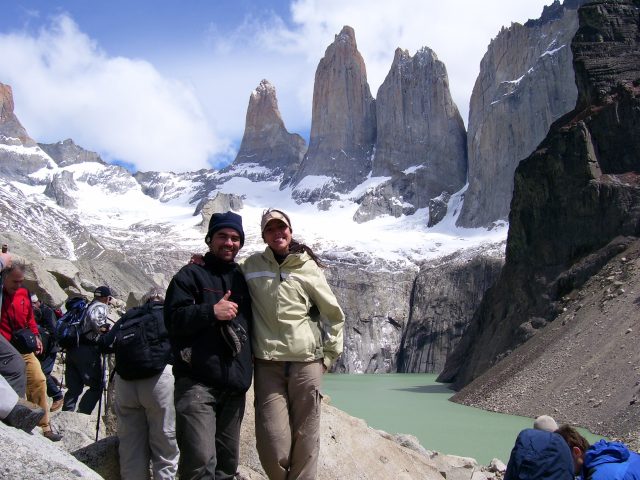 Day 3.Los Cuernos (the Horns).
After breakfast pick up your lunch-box and you will start your trek to Refugio Cuernos (or Francés).  You will hike on undulating terrain surrounding Mount Almirante Nieto (2.860m/8,790ft), along the north shore of  Lake Nordenskjöld, one of the largest lakes in the Park. You will stop to enjoy our lunch and regain energy as we wait for possible low flying condors over the windy lake. Then you will continue with our journey; as you get closer to your destination you will be surprised by the impressive sight of the Cuernos del Paine (horn-like granite peaks), composed by granite and sedimentary rock, with some features that make them unique in the world. In the shadow of these towering giant horns stands the Refugio Cuernos, where you will have dinner and spend the night.
| | |
| --- | --- |
| Hiking distance: | 5 hours, 11,5 km / 7.2 miles |
| Elevation*: | 150 m/\ (480 feet) |
| Physical Difficulty: | Medium. |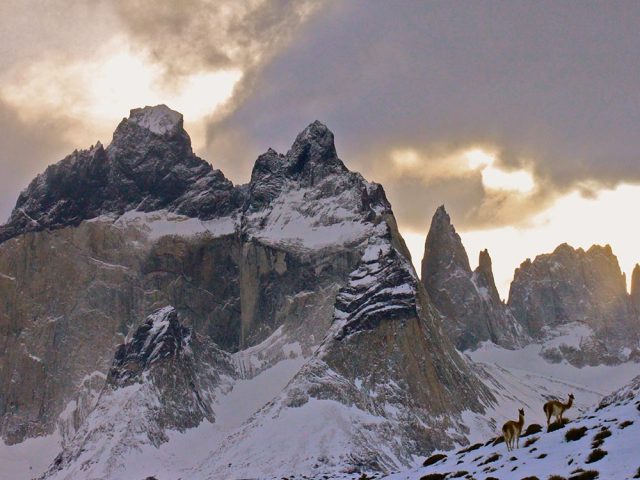 Day 4.Valley "del Francés".
Early in the morning you will head west in direction to the Valle del Francés (Frenchman's Valley), one of the most beautiful places in the Park. We will surround the Cuernos walking by Lake Nordenskjöld's shore, and then we will climb to our first amazing lookout to admire an ample view of the whole valley, the lake, and the enormous Mount Paine Grande (3.050m/10,000ft), the highest in the Park. You will arrive at Camp Italiano, from which you will start one-hour ascent up the valley above the Glacier "del Francés" . On our way up the moraine, the lenga and coigüe (
N. pumilio
 and 
N. betuloides
) forest around you is shaped by the wind to resemble a Japanese garden. Once at the lookout the views are amazing with a range of 360 degrees: panoramic views of the lakes below, surrounding granite peaks, and the hanging glaciers of Paine Grande in front. There you will enjoy lunch watching avalanches cascade and condors soar. You might have the chance to keep going up to the furthest viewpoint past Camp Británico, to arrive into the middle of a breathtaking amphitheatre of granite spires. After a brief stop we will return along the same path to Camp Italiano and then continue walking west along the south face of Mount Paine Grande, passing by deep blue Lake Skottsberg. Once you see Lake Pehoé, of intense turquoise waters, you will be really close to the final stop, the Lodge Paine Grande, where you will have dinner and spend the night.
| | |
| --- | --- |
| Hiking distance: | (partly optional) 8-10 hours, 26 km / 16 miles |
| Elevation*: | 500 m/\ (1,600 feet) |
| Physical Difficulty: | Medium-High. |
Day 5. Glacier Grey.
Early morning after breakfast you will start hiking north toward Glacier Grey, taking a beautiful trail along the western face on Mount Paine Grande. After an hour you will start to see the countless snowy peaks of the Andes which hold the Southern Patagonian Ice Field and the many glaciers that flow down from it. Then the trail will lead us to open terrain that overlooks Lake Grey, allowing us views of its greenish grey waters in contrast with deep blue, floating icebergs. In another hour we will arrive at "the half-way viewpoint", which offers a breathtaking panorama of the glacier and the snow-capped mountains around us. Then we continue going in and out of the forest, until reaching your last stop in front of the eastern arm of the glacier, where you will have lunch and, if you are lucky, observe blocks of ice calving off the front face of the glacier. Around 13:45 pm you will board the "Grey III" boat, to sail along the glacier's front wall only some meters away from it, so you can be delighted with the marvellous shapes and colours of this impressive ice wall. After 2 hours sailing you will arrive at the south beach of Lake Grey where your private vehicle will be waiting to take you back to Puerto Natales (2 hrs). We will drop you off at your accommodation and wish you a warm goodbye.
| | |
| --- | --- |
| Hiking distance: | 4 hours, 11,5 km / 7.2 miles |
| Elevation*: | 300 m/\ (960 feet) |
| Physical Difficulty: | Medium. |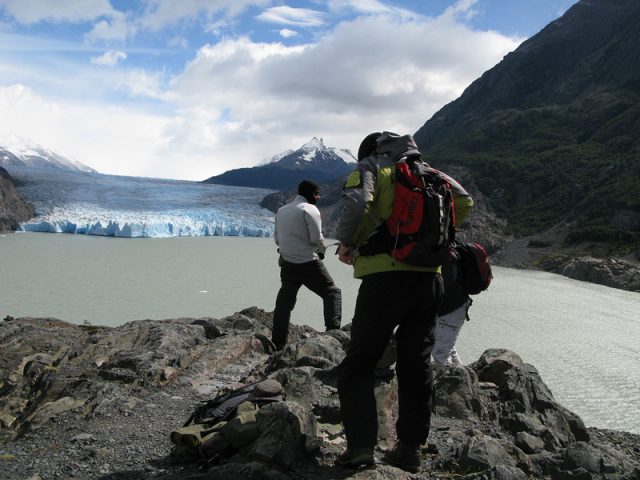 *References for elevation: m/\  (up and down the elevation mentioned)
m/\ eW (each way up and down elevation mentioned)
Note: This program may be subject to change due to weather or other unexpected situations which are not under our control.
Rates:
| | | | | |
| --- | --- | --- | --- | --- |
| Group of | | 2 people | 3-4 people | 5-6 people |
| Price per person USD$ | | USD$ 2.100 | USD$ 1.790 | USD$ 1.550 |
Includes:
 Private transport (from Puerto Natales to the Park round trip)
Guide
Park entrance fee
Four nights in mountain huts (rooms with 6  to 8 beds and shared bathrooms)
All meals (breakfast, lunch and dinner)
Grey III Navigation
Not included:
Extra nights
Insurance of any kind
Medical Expenses
Alcoholic and non-alcoholic drinks
Extra Meals (dinner day 5)
Tips