We are an adventure tourism company based in Puerto Natales, the gateway to the famous Torres del Paine National Park in Chilean Patagonia. Our experienced guides will take you on an unforgettable journey to one of the most amazing places on the planet, providing security, knowledge and entertainment. All of our guides are highly trained in first aid with international standards.
Our companies main focus is safety and environmental ethics. Extremo Chile, firmly believes and practices "Leave no Trace". We strive to keep nature intact for future generations, so they can enjoy wild beauty as we do.
Torres del Paine Location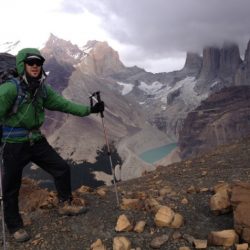 Carlos
After completing his university studies in Santiago he moved to Puerto Natales and made it his permanent home. He has been dedicated to tourism for nine years in Chilean and Argentinean Patagonia, working as a hiking guide and private transportation for tourists. Carlos is the founder of Extremo Chile, dividing his time between office work and guiding the excursions. He focuses on quality service, making your trip an educational, entertaining, safe and memorable experience. Carlos is passionate about nature and adventure, in his free time he enjoys mountaineering, kayak, rock climbing and exploring unknown places in Patagonia.
Languages: Spanish and English
First Aid Course, WFR
Professional Driver License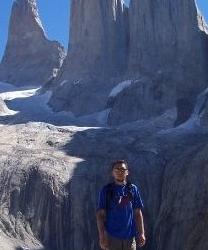 Gabriel
After graduating in Adventure Tourism Administration, Gabriel has worked as a guide and driver in the Torres del Paine National Park, gaining a lot of experience in the area. Currently he is responsible for logistics and sales program for Extremo Chile. In his free time Gabriel practices skiing and hiking. We highlight his achievements as a licensed CATA (trade association of adventure tourism) hiking guide.
Languages: Spanish and English.
Professional Licensed Driver
First Aid Course (Cruz Roja)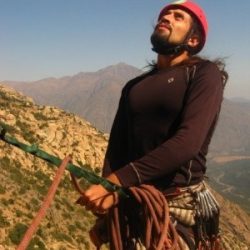 Claudio
Claudio is an experienced climber and mountaineer, born in San Gabriel, Cajon del Maipo Chile. That is where his passion for nature and outdoor activities began. After earning degrees in technical tourism and gastronomy he has been working in adventure tourism since 2006. He has experience as a climbing instructor, rope course instructor, teamwork builder and guide in expeditions in Torres del Paine National Park. Claudio is responsible for logistics and guiding excursions, contributing with his knowledge and deep experience. Among his certifications we emphasize; Advanced Workshop managing ropes courses and rock climbing.
Languages: Spanish and English
Wilderness First Aid WFR (ACES)
Victor
"Viti" is an experienced guide. Since 1999 he works at Torres del Paine National Park and all the region. He was born in Punta Arenas and his childhood was in Tierra del Fuego. He specialized in birdwatching and photo safari.
Languages: Spanish and English
Wilderness First Aid WFR (ACES)