We'll pick you up with our private vehicle at 08:00 am from your accomodation, to drive towards Torres del Paine National Park, on a road (115 km/72 miles) across beautiful, wide landscapes: pampas, forests, steppe, and mountainous areas, all molded by ancient glaciers. During two hours we will be driving amongst Magellanic "estancias" (huge ranches), and we might meet a sheep herd moving along the road with the whistling of "gauchos" on horses and the barking of their many dogs.  After an hour of driving we will make a brief stop at Cerro Castillo, a small village rich in gaucho culture on the border with Argentina. From here we'll continue our trip for one more hour on gravel road, which makes it easier to spot and observe wildlife such as guanacos, rheas, foxes, flamingos, caracaras, eagles and condors if we are lucky. As we get close to the Park we will make several stops to admire and photograph magnificent sceneries like Lake Sarmiento and Laguna Amarga in front of the Massif Paine.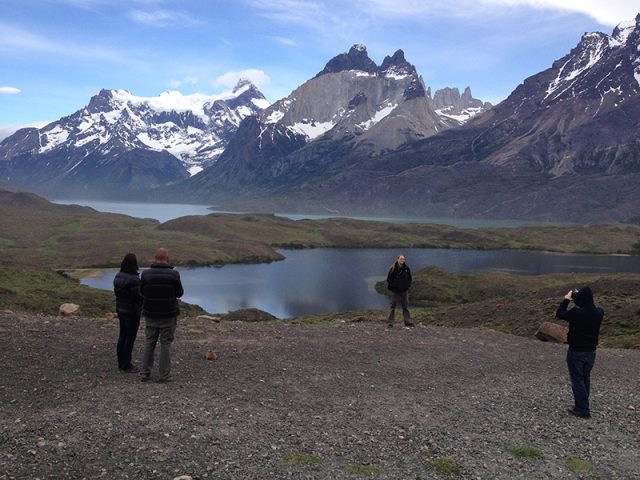 We go into the Park through the Laguna Amarga entrance, to start our journey from east to west on the Park's main road (46 km/30 miles) visiting various lookouts, admiring Mount Almirante Nieto with its hanging glaciers together with the mythical Torres del Paine, three imposing granite giants rising 2850 m/9,100ft into the sky.
Travelling along the Southern side of the massif, we will be delighted by the different shades of blue of the lakes Nordenskjöld, Sarmiento and Pehoé, varying from deeply intense blue to milky green to unbelievably turquoise.
The road will take us in front of the Cuernos del Paine (horns), very special rock formations composed by two rock types, granite and sedimentary rock, creating a dazzling contrast of colours.
We will stop and take a short walk (30 min) to visit the Salto Grande (big waterfall), which pours the waters of Lake Nordenskjöld into the turquoise Lake Pehoé. (From the waterfall it is possible to do an optional hike to another lookout, on easy terrain, (1.5 h) Back in the car, our next stop will be at camp Pehoé where you can enjoy a delicious lunch at the Pehoe restaurant with a spectacular mountain views. Then we will hike (1.5 h) to the Condor lookout point, where we are going to enjoy, from the heights, an amazing scenery of mountains, lakes, glaciers and vast pampas.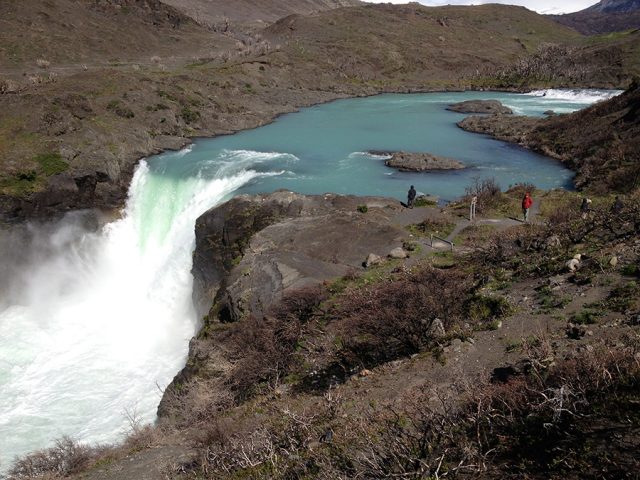 We will hit the road one more time to head towards west and then north, already admiring the Valley "del Francés" and Mount Paine Grande (3,050m/10,040ft), highest summit in the Park.
We will cross over the rivers Paine and Grey, watching the interesting changes in perspective of the Paine mountains, and discovering Mount Balmaceda and the Andes as we drive.
We will get off the car at the Lake Grey area, for our last hike in the Park (1.5h) starting through an old-growth beech forest (lenga, Nothofagus pumilio) towards a wide beach where we are very likely to find gigantic blue icebergs stuck against the shore, offering a magical panorama. We will continue towards a peninsula from where we will enjoy the truly captivating view of Glacier Grey behind many huge floating icebergs. Our return to Puerto Natales will be by a different route (2 hrs, 110 km/69miles) beside the great Lake Del Toro, giving us an opportunity to see other beautiful landscapes on our way back.
Our last stop will be the enormous cave "Cueva del Milodón", an impressive natural monument, witness to several important paleontological and archaeological discoveries. The place will invite us to imagine the way our ancestors survived in such a hostile weather, living together with the now extinct Pleistocenic fauna (ground sloth, saber-toothed cat, Patagonian panther, amidst others).
After a long and with no doubt unforgettable day, we will say goodbye leaving you at your place of stay.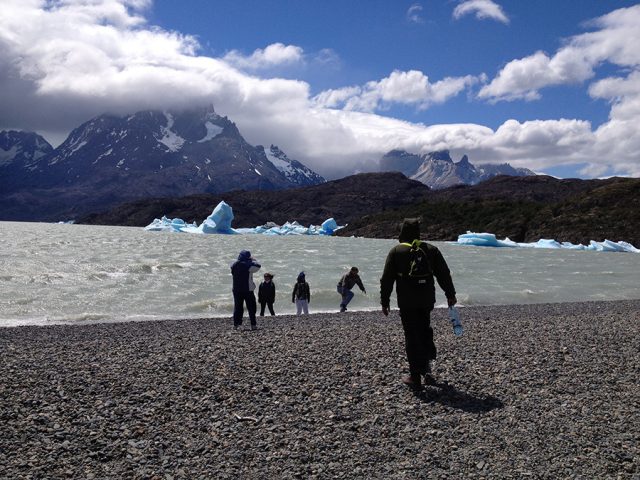 | | |
| --- | --- |
| Total duration of excursion: | 10-12 hours |
| Hiking Time (optional): | 1/2 – 5 hours |
Rates:
| | | | | | | | | |
| --- | --- | --- | --- | --- | --- | --- | --- | --- |
|  Group of | | 2 people | 3 people | 4 people | 5 people | 6 people | 7 people | 8 people |
| Price per person USD$ | | USD$ 225 | USD$ 180 | USD$ 160 | USD$ 140 | USD$ 120 | USD$ 100 | USD$ 90 |
Includes:
Private transport
Professional Guide (English/Spanish)
Snack
Not included:
Park entrance fee (USD$ 35)
Tickets Milodón Cave (USD$ 10)
Insurance of any kind
Lunch
Tips