Somos una empresa de turismo aventura con sede en Puerto Natales, la entrada al famoso Parque Nacional Torres del Paine en la Patagonia Chilena. Nuestros experimentados guías te llevarán en un viaje inolvidable a uno de los lugares más impresionantes del planeta, priorizando la seguridad, conocimiento y el buen humor. Nuestros guías están altamente capacitados en primeros auxilios con estándares internacionales.
Nuestra empresa se centra principalmente en la seguridad y la ética del medio ambiente, Extremo Chile cree firmemente y práctica "no dejar rastro". Nos esforzamos por mantener intacta la naturaleza para las generaciones futuras, de esta manera ellos podrán disfrutar de tanta belleza salvaje al igual que nosotros.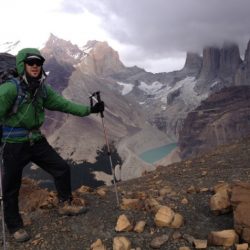 Carlos
After completing his university studies in Santiago he moved to Puerto Natales and made it his permanent home. He has been dedicated to tourism for nine years in Chilean and Argentinean Patagonia, working as a hiking guide and private transportation for tourists. Carlos is the founder of Extremo Chile, dividing his time between office work and guiding the excursions. He focuses on quality service, making your trip an educational, entertaining, safe and memorable experience. Carlos is passionate about nature and adventure, in his free time he enjoys hiking, mountain biking, rock climing and exploring unknown places in Patagonia.
Languages: Spanish and English
First Aid Course, WFR (E.A.S.P.A)
Professional Licensed Driver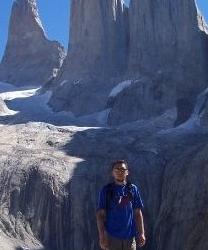 Gabriel
After graduating in Adventure Tourism Administration, Gabriel has worked as a guide and driver in the Torres del Paine National Park, gaining a lot of experience in the area. Currently he is responsible for logistics and sales program for Extremo Chile. In his free time Gabriel practices skiing and hiking. We highlight his achievements as a licensed CATA (trade association of adventure tourism) hiking guide.
Languages: Spanish and English.
Professional Licensed Driver
First Aid Course (Cruz Roja)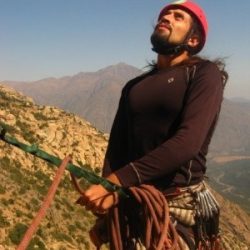 Claudio
Claudio is an experienced climber and mountaineer, born in San Gabriel, Cajon del Maipo Chile. That is where his passion for nature and outdoor activities began. After earning degrees in technical tourism and gastronomy he has been working in adventure tourism since 2006. He has experience as a climbing instructor, rope course instructor, teamwork builder and guide in expeditions in Torres del Paine National Park. Claudio is responsible for logistics and guiding excursions, contributing with his knowledge and deep experience. Among his certifications we emphasize; Advanced Workshop managing ropes courses and rock climbing.
Languages: Spanish and English
Wilderness First Aid WFR (ACES)